Project Art / ARTROOMS 2018

We are excited to announce that we are once again partnering with ARTROOMS, London's largest art fair for independent artists. Project Art is an official sponsor of the 2018 event, 20-22 of January at the Meliá White House in London.
This year Project Art artists have a double opportunity to win a place at ARTROOOMS 2018 to exhibit their work and meet collectors, buyers and art lovers in person.
Here is how it works:
First of all, to take part in the Project Art/ARTROOM competition please apply to ARTROOMS directly (https://art-rooms.org/how-to-apply/) – as a registered artist on Project Art you'll receive a discounted fee (£15 instead of £20) using the code PART2018 – applications are now open until 5th of August, so please do apply asap.

If you don't have an account on projectart.com yet, you can sign up now for free and start uploading your artwork for the competition.

All applications are examined by the ARTROOMS Selection Committee which includes top experts in the Arts industry. The Committee will select 70 artists. If your application is successful you'll be given your own room at the fair which you can transform into your personal and creative space and showcase your artwork.

The exhibition space is free. In return, ARTROOMS ask for 30% commission on sales. All other expenses, such as travels, stay, and shipment of the works are at the artist's cost.

For all artists registered on Project Art who have applied to ARTROOMS directly, Project Art will also run a competition on our platform to provide artists with an additional opportunity to exhibit at ARTROOMS 2018. The three winning artists will then exhibit with their best performing artwork at ARTROOMS in January 2018.
The Project Art/ARTROOMS competition will run from September 15 – 30
To participate, all you have to do is write an email to info@projectart.com and tell us which three artworks from your Project Art profile you want to enter into the competition (they can be the same ones you have already submitted to ARTROOMS but don't have to be – your choice!) by 5th of August and expose your work to a global audience of art collectors and enthusiasts on our platform. Our platform will capture all user interactions with your work and determine the most popular works of art at the end of the competition period.
There are no fees to participate in the Project Art competition.
The more people share, like and follow you and your work, the higher your chances are of winning – so tell all your friends and followers!
To get the most out of the competition period, make sure your friends and followers are all signed up and ready to go – make sure you share the links to your artwork and profile on social media to grow your following!
Please note: we are only counting interactions between September 15 – 30!
Should you and your artwork be one of the winning entries, we will ask you to pay for shipping your artwork to and from London for the exhibition and also to pay for your travel and accommodation, should you want to be there in person for the opportunity to meet a large number of art collectors and enthusiasts.
Should your artwork be sold at ARTROOMS 2018, our standard commission rate of 25% will apply.
We highly recommend that you make sure you can attend the entire fair in person factoring in setting up on January 19th.
At ARTROOMS 2017, our winning artists had a big impact at the fair and were named amongst the highlights.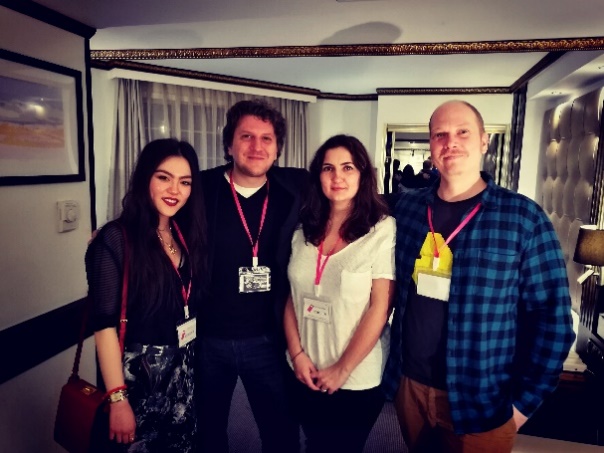 1. Damien Borowik
2. Falk von Schönfels
3. Mireia de Coursey
4. Emese Wu
We look forward to seeing you on projectart.com and good luck with the competition.
The Project Art Team